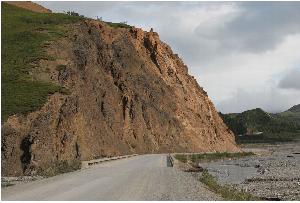 CE_Mitigate Rockfall Hazards at Toklat Bluffs
This CE updates and amends the list of safety concerns on page 270 of Appendix C to include Toklat Bluffs.
Compliance allows for a boarder range of work than is currently proposed. Work in 2021 will include pulling down approximately 5k cubic yards of material from a 600' section of slope and raising the road surface 1-2' to create a larger ditch for catchment.