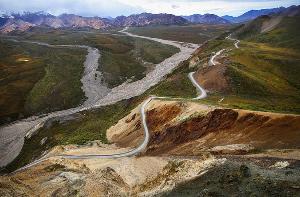 Fall 2021 Comment Summary and Compliance Update
This one-page Word document provides a summary of the public comments received in October 2021, as well as a December 2021 update on the NEPA and NHPA compliance processes and associated civic engagement.
In response to requests to review the documents that informed the development of the proposed action, a link to the Polychrome Project Development Plan is included below. This plan was developed by the Federal Highway Administration and its recommendation of the "mainline option", including a bridge across Pretty Rocks, was approved by the National Park Service in September 2020. There are twelve appendices to the plan, including Appendix K: Expert Based Risk Assessment (EBRA), Appendix L: Value Analysis, and several geotechnical reports.

Document Content:

SummaryofCommentsandComplianceUpdate.docx
(24.6 KB, .docx file)
Disclaimer:
Links within the above document(s) were valid as of the date published.
Note:
Some of the files may be in PDF format and can be viewed using the Adobe Acrobat Reader software. You may download a free copy of
Acrobat Reader
from Adobe Systems.