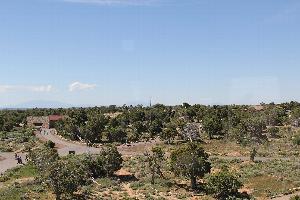 Grand Canyon National Park Telecommunications Plan and Environmental Assessment
The National Park Service (NPS) is seeking public comment on the Grand Canyon National Park Telecommunications Plan and Environmental Assessment (Plan/EA). Public comments will be accepted for a 36-day period from Monday, December 2, 2019 through Monday, January 6, 2020 to accommodate the holiday schedule.
The purpose of this Plan/EA is to identify appropriate types and locations of telecommunications infrastructure and services within Grand Canyon National Park that, if installed, would provide sufficient and reliable wireless (including cellular—voice and data) coverage, data network capacity (i.e., bandwidth), and two-way radio communications to meet the needs of visitors, the NPS, and park partners within developed areas of the park.
This Plan/EA is needed to (1) comprehensively address telecommunications deficiencies within developed areas of Grand Canyon National Park that currently inhibit NPS operations as well as the activities of visitors and park partners and (2) ensure that telecommunications infrastructure is designed and located in a manner that minimizes impacts to park resources.
The Plan/EA evaluates a no action alternative and one action alternative. The preferred alternative (the action alternative) would provide a framework and guidance for the future construction and operation of telecommunications infrastructure—specifically, telecommunications towers, small-cell sites, and fiber optic communications cable (fiber)—within developed areas of Grand Canyon National Park. The proposal also includes the removal and/or potential relocation of some existing telecommunications infrastructure.
To assist the public in understanding the Plan/EA and providing comments, the NPS hosted a webinar on December 9, 2019 and a public open house in the park on December 16, 2019. The presentation, with notes, shared during the webinar and the posters displayed at the public open house are included below.
To comment on this Plan/EA, please click on "Comment Now" below. Comments may be submitted on this webpage, at a public open house, or via mail (address below). Comments submitted by other means (including fax, email, Facebook or other social media posts) will not be considered.
Comments that inform the accuracy or adequacy of the information within the Plan/EA, present reasonable alternatives than those considered within the Plan/EA, or cause changes or revisions in the proposal are particularly helpful.
The NPS anticipates making a final decision on this plan in early 2020.
(Please note that the press release that went out with this effort stated that the decision would result in what is called a Finding of No Significant Impact (or a FONSI). While that may be the case, the decision may also be to proceed with the preparation of an environmental impact statement.)
Comment Period:
Closed Dec 2, 2019 - Jan 6, 2020

Document Content: