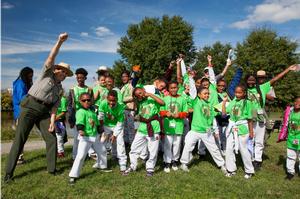 Anacostia Park Management Plan Environmental Assessment - FONSI
The National Park Service (NPS) has completed the Anacostia Management Plan which provides a framework to manage the park's natural and cultural resources and shape how people experience and enjoy the park for the next 15-20 years.
The completed a plan and environmental assessment that explored four alternatives that described different locations and sizes for the zones. The alternatives in the plan guide park management and describe zones based on what people would expect to see, do or experience there. The zones are:
• Natural Resource Recreation Zone
• Park Administration / Operations Zone
• Community Activities and Special Events Zone
• Organized Sport and Recreation Zone
• Golf Course Zone
• Special Permit Zone
National Capital Region Director Robert A. Vogel signed the Finding of No Significant Impact (FONSI) on November 12, 2017 selecting Alternative #3. Alternative #3 provides the most balanced combination of recreation areas and natural areas, which supports the greatest variety of visitor activities and recreational opportunities while still protecting the park's nature and history.Approval of the plan is the final step of a process that has included public input and coordination with federal and state agencies and partners.
This plan lays out the big-picture direction for the park. It does not describe how particular programs or projects should be implemented. The park's Foundation Document, which was completed in September 2016, identifies additional plans, describes what is most important about the park and affirms its core mission and significance, key resources and values, and important themes and stories. Read an overview of the Foundation Document
https://www.nps.gov/anac/learn/management/upload/ANAC-KEAQ_OV_2016_508.pdf