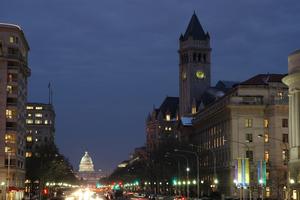 Pennsylvania Avenue Development Corporation Plan- 1974
In 1972 Congress created the Pennsylvania Avenue Development Corporation (PADC) to develop and execute a plan for the area adjacent to Pennsylvania Avenue between the Capitol and the White House, most of which was included in the Pennsylvania Avenue National Historic Site. Congress declared that it is in the national interest that this area "be developed, maintained, and used in a manner suitable to its ceremonial, physical, and historic relationship to the legislative and executive branches of the federal government and to the governmental buildings, monuments, memorials, and parks in or adjacent to the area" (40 USC 871 (1996)).
The Pennsylvania Avenue Development Corporation released the Pennsylvania Avenue Plan in 1974 to establish a framework for revitalizing the avenue. See below for the full plan.
By 1996 the redevelopment plan for Pennsylvania Avenue had been largely implemented, and Congress disbanded the Pennsylvania Avenue Development Corporation. Its rights, properties, and authorities were assigned by Congress to the General Services Administration, the National Park Service, and the National Capital Planning Commission (see "Background Information" under "Document List" for documents related to this transfer). The current planning effort seeks to find methods to better implement the 1976 plan, given the various entities and jurisdictions involved.

Document Content: