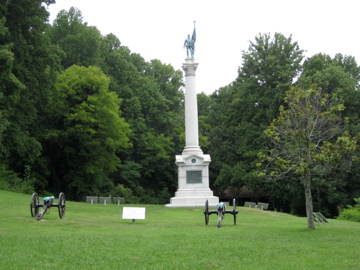 Lookout Mountain Battlefield GMP Amendment Newsletter 02-08-13
The purpose of the GMP amendment is to present a plan for managing Lookout Mountain Battlefield for the next 20 years. This plan amends the GMP completed for the national military park in 1988. At the time, portions of Lookout Mountain Battlefield were not part of the park and therefore were not included in the GMP. This GMP amendment solely looks to guide management of the Lookout Mountain Battlefield, and will address the management of newly acquired lands, as well as some of the issues identified early in the planning process that affect the battlefield as a whole.
In 2009, we asked for your suggestions for improving Chickamauga and Chattanooga National Military Park and planning for its future. Taking your feedback into account, the planning team has developed two preliminary alternative concepts for the battlefield. We again need your advice, suggestions, and comments on these alternatives or the elements that make up each alternative. Sharing your ideas and concerns for management of the battlefield will strengthen the planning process and help us make the best decisions for the park.
Comment Period:
Closed 02/08/2013 - 04/08/2013
Topic Questions Instructions:
Please number your responses to match the corresponding question. Thank you!
Topic Questions:
1. What do you like about each alternative?
2. Are there elements of the alternatives that conern you? Please explain.
3. Do you think the range of alternatives is complete? Are there things we have missed or overlooked?
4. Do you have any other comments or concerns you would like the planning team to take into consideration?

Document Content:
Disclaimer:
Links within the above document(s) were valid as of the date published.
Note:
Some of the files may be in PDF format and can be viewed using the Adobe Acrobat Reader software.
You may download a free copy of Acrobat Reader from Adobe Systems.