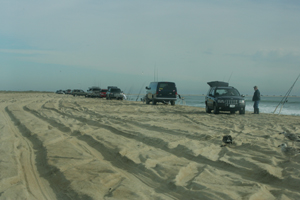 2007 12Dec 28 - Alternatives Options Workbook
The purpose of this workbook is to get your input on the draft alternative options for managing ORV use at Cape Hatteras National Seashore.
This workbook is OPEN for public comment through FEBRUARY 15, 2008, using one of the following three ways to submit comments. This document is not open in PEPC for comment due to technical incompatibility.
3 WAYS TO SUBMIT COMMENTS:
• Attend public information meetings (Jan 14-17, 2008) and complete a preliminary alternative options workbook at the meetings;
• Submit your completed workbook by mail to: Superintendent, RE: Off-Road Vehicle Management Plan/EIS, Cape Hatteras National Seashore, 1401 National Park Drive, Manteo, NC 27954;
or
• Email your completed workbook to cahaorveis@louisberger.com.
NOTE: Faxed comments and other email comments will not be accepted.
Please be sure to include your full name, e-mail address or mailing address with your workbook so we may add you to our mailing list for information on the planning process. The NPS practice is to make comments, including names, home addresses, home phone numbers, and email addresses of respondents, available for public review. Individual respondents may request that we withhold their names and/or home addresses, etc., but if you wish this request to be considered, you must state this prominently at the beginning of your comments.
For your comments to be the most useful in developing the alternatives to be evaluated in the draft plan/EIS, your workbooks should be received by FEBRUARY 15, 2008.

Document Content: