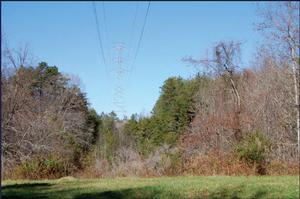 Environmental Assessment for Progress Energy Carolinas ROW Permit
The National Park Serivce is seeking public input, through May 31, on an Environmental Assessment (EA) that evaluates the impacts of issuing a right-of-way permit to Progress Energy Carolinas (PEC) to design, build, and operate a new 115kV overhead electric transmission line crossing the Blue Ridge Parkway south of Asheville, Buncombe County, near Milepost 393. The proposed line would run parallel and adjacent to an existing PEC transmission line on park property. The intent of this project is to ensure continued reliability of the transmission system, which is experiencing growing demand for power by the citizens, businesses, and industries of the region.
Those who wish to review and comment on this document may do so by clicking on the "Open for Comment" link on the left. Before including your address, phone number, e-mail address, or other personal identifying information in your comment, you should be aware that your entire comment – including your personal identifying information – may be made publicly available at any time. While you can ask us in your comment to withhold your personal identifying information from public review, we cannot guarantee that we will be able to do so.
Comment Period:
Closed 04/28/2011 - 06/03/2011

Document Content: