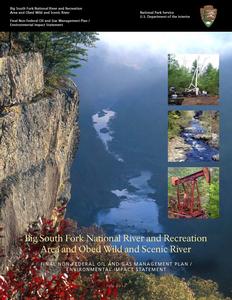 Final Non-Federal Oil and Gas Management Plan / Environmental Impact Statement
The National Park Service (NPS) is pleased to announce the release of the Final Oil and Gas Management Plan/ Environmental Impact Statement (Plan/EIS) for Big South Fork National River and Recreation Area and Obed Wild and Scenic River. The Plan/EIS provides a systematic approach for addressing the effective regulation and management of non-federal (privately-owned) oil and gas operations in the two national park units. It provides guidance for activities taken by owners and operators of private oil and gas rights to ensure these activities are conducted in a manner that protects park resources and values, visitor use and experience, and human health and safety.
A Draft Plan/EIS was available for public and agency review and comment from June 15 – August 16, 2011. Five public meetings were held from July 18 through 22, 2011 to gather input on the draft plan/EIS. Copies of the document were distributed to individuals, agencies, organizations, and local libraries. The document was also available online.
The final plan/EIS responds to, and incorporates as appropriate, agency and public comments received on the draft plan/EIS. NPS responses to substantive agency and public comments are provided as Appendix N of the final plan/EIS.
The NPS will make the final plan and environmental impact statement available for public inspection for 30 days before the Regional Director of the NPS's Southeast Region signs a Record of Decision (ROD). The ROD will document approval of the Final Plan/EIS and identify the selected alternative for implementation. Once signed the ROD will be posted on this site, and interested parties will be notified of its availability.
For additional information, please feel free to contact Tom Blount, Big South Fork NRRA and Obed WSR Chief of Resources, at 423-569-9778.

Document Content: