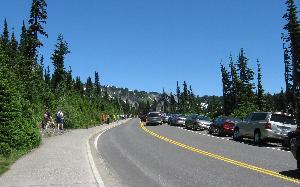 Nisqually to Paradise Corridor Draft Management Plan EA
Mount Rainier National Park is seeking public review and comment on the Draft Nisqually to Paradise Corridor Management Plan and environmental assessment (EA). The plan is needed to address visitor experience, congestion, and resource issues. The popularity of Mount Rainier National Park is growing, with increased visitation from year to year. From 2008 to 2021 annual visitation rose from 1.1 million visits per year to above 1.7 million visits. The park experiences extremely concentrated use, with approximately 70% of the more than one million visits occurring between July and September. Much of this use is concentrated in a relatively small number of popular destinations, including the Paradise and Sunrise areas. The plan and EA evaluate three action alternatives which include actions that would proactively manage and pace the entry of vehicles into key areas of the park (including but not limited to Paradise and Sunrise). Potential actions include timed-entry reservation systems, parking permit systems, alternative transportation options, as well as improved wayfinding, signage, roadside scenic vista management, and development of trails.  The EA was informed by public input provided during the early planning stage. The Draft Plan is currently posted for public review and comment. A virtual public meeting will be held to provide information about the Draft Plan and alternatives. Click the link to the left to see meeting details.
To be most helpful, your comments should address: 1) the purpose and need for action; 2) the environmental issues/impact topics analyzed; 3) your opinions on the alternatives, including mitigation measures which could reduce potentially harmful effects; and 4) the information used to describe the affected environment and environmental consequences.
Comments which are not helpful include those which: 1) vote for or against a potential management strategy or alternative without giving reasons why; 2) agree or disagree with laws, regulation, or NPS policy; 3) discuss other projects or other areas that are not related to the draft plan; and 4) contain vague language or open-ended questions or statements.
Comment Period:
Closed Apr 26, 2023 - Jun 26, 2023

Document Content: