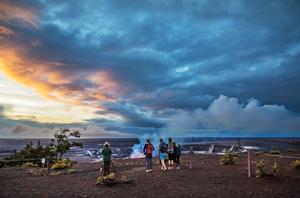 Proposed Tri-Park Pass Fee Increase
The public is invited to comment on a proposed fee increase from $30 to $50 for the Tri-Park Pass, an annual pass that allows visitors unlimited entry to the three fee-charging national parks in Hawai'i: Hawai'i Volcanoes and Haleakalā National Parks, and Pu'uhonua o Hōnaunau National Historical Park.
From mid-October through mid-December 2014 a public comment period was held for a previous increase to all recreation fees. Comments were gathered at visitor centers, online, and via postal mail and email. From June 1, 2015 through 2017, Hawai'i Volcanoes National Park entrance fees were raised incrementally each year in order to meet national standards for parks with similar visitor amenities. The per-person fee went incrementally from $5 (in 2015) to $12 in 2017. The motorcycle fee was raised incrementally from $5 (in 2015) to $20 in 2017. The per-vehicle pass was raised from $10 to $25 in 2017, but the tri-park pass only increased from $25 to $30 and was not in alignment with national standards.
The proposed Tri-Park Pass fee increase would start May 1, 2018 and ensure the Hawai'i parks have the same pricing structure as other national parks with similar visitor amenities.
The current National Park Service fee program began in 1997 and allows parks to retain 80 percent of monies collected. The remaining 20 percent has gone into a fund to support park units where fees are not charged (six of the nine national park units in Hawai'i do not charge entrance fees).
In 2017, Hawai'i Volcanoes National Park collected $6,787,910 in fee revenue, and sold 13,413 Tri-Park Passes. Recent projects funded by fees include wheelchair-accessibility improvements at Mauna Loa Lookout; a new summit eruption viewing area at Jaggar Museum; the replacement of the lighting system in Thurston Lava Tube; a new exhibit to protect and share ancient Hawaiian footprints preserved in the Ka'ū Desert; and the restoration of the 1932 Administration Building ('Ōhi'a Wing) into a cultural museum. Entrance fees also fund ongoing projects to protect Hawaiian plants and animals, improve trails, provide visitor safety, and much more.
Entrance fees are not charged to children under 16 years old, or holders of the America the Beautiful National Parks and Federal Recreational Senior, Access, or Military passes. These passes are available at the park, or online.
An NPS report shows that 1,887,580 visitors to Hawai'i Volcanoes National Park in 2016 spent $159,195,500 in communities near the park. That spending supported 1,917 jobs on island, and had a cumulative benefit to the local community of $199,923,400.
Comment Period:
Closed 02/01/2018 - 03/02/2018

Document Content:
No files have been uploaded for this document.