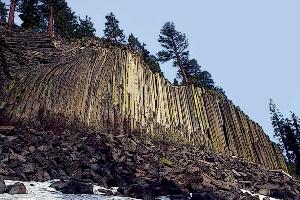 Newsletter #3 - Preliminary Alternatives
This newsletter is the third of a series and presents four preliminary alternatives currently under consideration that outline a range of potential management options for the future of Devils Postpile National Monument. The NPS does not have a preferred alternative at this time.
Comment Period:
Closed 07/15/2011 - 09/30/2011
Topic Questions:
1. Which ideas of any in the preliminary alternatives do you think should be included in the preferred alternative, and why?
2. Are there any important elements or ideas that were missed in the preliminary alternatives? Please describe and explain why these additional ideas are important.
3. Do you have a preference for any one particular alternative? If so, please explain why.
4. What else would you like the planning team to know as we write the Draft General Management Plan?

Document Content:

Newsletter 3 Preliminary Alternatives
(8.9 MB, PDF file)
Disclaimer:
Links within the above document(s) were valid as of the date published.
Note:
Some of the files may be in PDF format and can be viewed using the Adobe Acrobat Reader software.
You may download a free copy of Acrobat Reader from Adobe Systems.