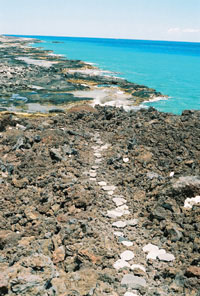 Abbreviated Final Comprehensive Management Plan / Environmental Impact Statement
The following files are the Ala Kahakai Abbreviated Final Comprehensive Management Plan and Environmental Impact Statement (CMP/EIS). Please note that this abbreviated format is not a full reprint of the original Draft CMP/EIS, and so it must be considered along with the Draft. We have undertaken this abbreviated format because comments on the draft CMP/EIS did not require significant changes in the final plan, but reflect editorial corrections and clarifications of the text.
The Notice of Availability for the Abbreviated Final CMP/EIS was published in the Federal Register on November 7, 2008 and the 30-day no-action period ends on December 8, 2008. After the no-action period, the alternative or actions constituting the approved plan will be documented in a Record of Decision which will serve as the official approval of the plan and the selected management alternative. A presentation plan of the CMP will be published after the Record of Decision. The presentation plan will contain only the approved alternative.

Document Content: