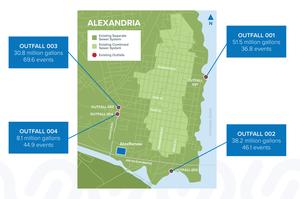 RIVERRENEW: AN INFRASTRUCTURE INITIATIVE TO REMEDIATE ALEXANDRIA'S COMBINED SEWER SYSTEM
Alexandria Renew Enterprises (AlexRenew), in cooperation with the National Park Service (NPS), prepared an Environmental Assessment (EA) to examine alternative actions and environmental impacts associated with the proposed RiverRenew infrastructure initiative in the City of Alexandria, that includes portions of Jones Point Park, George Washington Memorial Parkway (GWMP), which are administrative units of the NPS. In addition, the study area also includes certain portions of the Bed of the Potomac River, use of which the NPS authorizes through permits issued to protect the proprietary interests of the Federal Government. RiverRenew is designed to substantially reduce discharges of sewage mixed with rainwater from Alexandria's combined sewer system to the Potomac River, Hooffs Run, and Hunting Creek.

Document Content:

20200414 GWMP AlexRenew FONSI package - executed.pdf
(32.9 MB, PDF file)
Disclaimer:
Links within the above document(s) were valid as of the date published.
Note:
Some of the files may be in PDF format and can be viewed using the Adobe Acrobat Reader software.
You may download a free copy of Acrobat Reader from Adobe Systems.