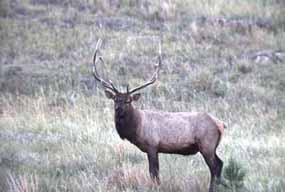 Final Elk Management Plan/EIS
This Final Elk Management Plan and Environmental Impact Statement (plan/EIS) establishes goals, objectives, and specific implementation actions needed to manage elk using the park in a manner that will achieve a population level in better balance with a variety of other park resources. The plan will guide policy direction for the adaptive management of elk in the park, as well as provide a strategy for the integration of monitoring and research results over the next 15 to 20 years. This plan/EIS represents a partnering effort between the park and the South Dakota Department of Game, Fish and Parks (SDGFP).
The specific goals of taking action are: to consider the varied concerns of interested parties; coordinate with other agencies responsible for elk management in order to achieve management goals and objectives; identify thresholds that will trigger elk population management actions, considering all relevant biological factors; incorporate latitude for management strategies as information is obtained from relevant research; and retain the ability to manage the elk populations to meet biological objectives where wildlife health issues are present or emerge.
The Draft Elk Management Plan/Environmental Impact Statement was on public review from June 20, 2008 through August 18, 2008. Responses to public comments are addressed in this final EIS. A 30-day no-action period will follow the Environmental Protection Agency's Notice of Availability of the final EIS. After the 30-day period, a Record of Decision documenting the selected alternative will be signed by the Regional Director that will document NPS approval of the Final Elk Management Plan/Environmental Impact Statement and identify the selected alternative for implementation.

Document Content:

Chapters 1-5
(4.4 MB, PDF file)

References, Glossary and Appendices
(11.6 MB, PDF file)
Disclaimer:
Links within the above document(s) were valid as of the date published.
Note:
Some of the files may be in PDF format and can be viewed using the Adobe Acrobat Reader software.
You may download a free copy of Acrobat Reader from Adobe Systems.