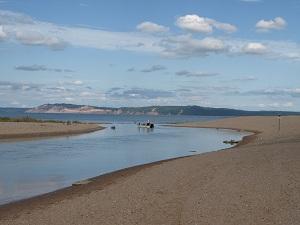 Environmental Assessment
Please note: The comment period closed on Sunday, January 15, 2017
The Platte River Mouth Restoration and Access Plan / Environmental Assessment (EA) is open for public review and comment.
The document is available for download below. Click on "SLBE Platte River Mouth Plan EA.pdf" to download.
The press release is also available to download below.
This Plan/EA outlines and evaluates the environmental impacts of three alternatives to restore, to the fullest extent practical, the Platte River mouth in Sleeping Bear Dunes National Lakeshore to a natural condition, while at the same time maintaining recreational boat access to Lake Michigan. The NPS proposed action is to implement Alternative 2 (the Preferred Alternative) as outlined in the Plan/EA.
Please submit your comments by clicking on "Comment Now." You are encouraged to submit your comments electronically through this site. Alternatively, you may mail comments to the address below.
The public comment period closes on January 15, 2017.
An informational meeting, including a brief presentation, is scheduled for December 7, 2016 from 5:00 p.m. to 6:30 p.m. at the Philip A. Hart Visitor Center Auditorium in Empire. Park staff will be available to answer questions about the document. Comments may also be submitted in writing at the meeting.
A paper copy is available for review at the National Lakeshore Visitor Center in Empire.
Comment Period:
Closed 11/16/2016 - 01/15/2017

Document Content:

SLBE Platte River Mouth Plan EA.pdf
(2.7 MB, PDF file)

Press Release Platte River Mouth Plan EA Review Period.pdf
(80.7 KB, PDF file)
Disclaimer:
Links within the above document(s) were valid as of the date published.
Note:
Some of the files may be in PDF format and can be viewed using the Adobe Acrobat Reader software.
You may download a free copy of Acrobat Reader from Adobe Systems.