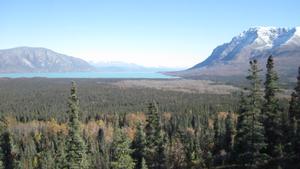 Research Bay Overlook Trail and Viewing Platform
Draft Environmental Assessment for the proposed project to construct an overlook platform and trail at the Research Bay overlook along the Valley of Ten Thousand Smokes Road in Katmai National Park and Preserve.
Project information can be viewed and written comments submitted using the "Open for Comment" link on the left hand side of this page between December 15, 2018 and February 18, 2019. Comments on this project may also be hand-delivered to the Katmai National Park and Preserve visitor center in King Salmon, AK, or mailed to the address below. Comments will not be accepted by fax, email, or in any other way than those specified above. Comments must be received by 9:59 pm Alaska time, February 18, 2019.
Mail comments to:
Brian Smith
Environmental Protection Specialist
240 West 5th Avenue
Anchorage, AK 99501
Public Comment Considerations:
Bulk comments in any format (hard copy or electronic) submitted on behalf of others will not be accepted.
Before including your address, phone number, email address, or other personally identifiable information, be aware that your entire comment - including your personally identifiable information - may be made public at any time. You may ask us to withhold your personally identifiable information from public review, but we cannot guarantee that we will be able to do so.
The proposed project is an undertaking as outlined under Section 106 of the National Historic Preservation Act (NHPA) (36 CRF § 800). As such, we welcome comments about historic properties or other cultural resources that fall within the project area.
Comment Period:
Closed 12/15/2018 - 02/18/2019

Document Content:

20190325_FONSI_ResearchBayOverlook.pdf
(282.9 KB, PDF file)

20181210_EA_Research_Bay_trail_and_viewing_platform_DRAFT.docx
(11.8 MB, .docx file)
Disclaimer:
Links within the above document(s) were valid as of the date published.
Note:
Some of the files may be in PDF format and can be viewed using the Adobe Acrobat Reader software.
You may download a free copy of Acrobat Reader from Adobe Systems.