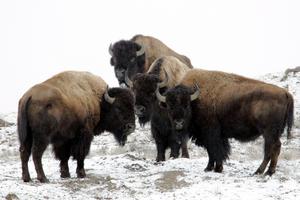 Yellowstone Bison Quarantine Plan Scoping Notice
The National Park Service is in the process of developing a plan to consider a quarantine program for Yellowstone bison at one or more new quarantine facilities, which could be located within Yellowstone National Park, on tribal lands, or elsewhere. The purpose of a quarantine program would be to augment or establish new tribal and public populations of plains bison to assist in the conservation of the species as wildlife, support the cultural and nutrition of Native Americans and reduce the number of Yellowstone bison shipped to processing facilities.
An environmental assessment (EA) will be prepared in compliance with the National Environmental Policy Act (NEPA) and Section 106 of the National Historic Preservation Act (NHPA) to provide the decision-making framework to evaluate a range of alternatives for potential implementation of a quarantine program, including the location(s), of one or more quarantine facilities, guidelines for implementing quarantine, and the scale at which quarantine may be conducted.
Two public scoping meetings will be held during the scoping period regarding the plans:
August 18, 2014
Yellowstone Association Headquarters
308 Park Street
Gardiner, MT
6:00pm - 8:00pm
August 19, 2014
Homewood Suites
1023 Baxter Lane
Bozeman, MT
6:00pm - 8:00pm
Comments may be submitted online through this system, hand delivered to the park's Administration Building in Mammoth Hot Springs, WY, during one of the public meetings, or mailed to the address below. Comments will not be accepted by fax, e-mail, or in any other way than those specified above. Comments must be received by midnight MST, September, 12, 2014.
Superintendent
Attn: Bison Quarantine EA
PO Box 168
Yellowstone Nat'l Park, WY 82190
Comment Period:
Closed Jul 28, 2014 - Sep 12, 2014

Document Content:
No files have been uploaded for this document.