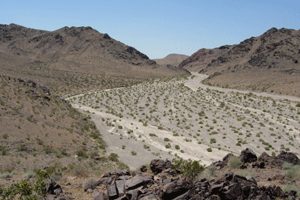 Old Spanish National Historic Trail Draft Comprehensive Administrative Strategy
The joint administrators of the Old Spanish National Historic Trail, the National Park Service (NPS) National Trails Intermountain Region and the Bureau of Land Management (BLM) Utah State Office are pleased to release a comprehensive administrative strategy document to guide their administration activities for the next 15 to 20 years. The document does not propose specific land management actions, but it will serve the functions of a comprehensive management plan by identifying high potential sites and segments, refining route alignments, presenting the official trail logo, and establishing the foundations for future trail planning efforts. The document was posted in draft form on this site for public comment on July 29, 2016, and the comment period ends on October 17, 2016. Following analysis of all comments, NPS and BLM will make final edits and sign and implement the document.
Comments may be entered here in PEPC, or sent to:
Michael Elliott, NTIR chief planner
PO Box 728
Santa Fe, NM 87504
505-988-6005
michael_elliott@nps.gov
Comment Period:
Closed 07/29/2016 - 10/17/2016

Document Content:

NPS_Old_Spanish_Trail_Final.pdf
(11.2 MB, PDF file)
Disclaimer:
Links within the above document(s) were valid as of the date published.
Note:
Some of the files may be in PDF format and can be viewed using the Adobe Acrobat Reader software.
You may download a free copy of Acrobat Reader from Adobe Systems.