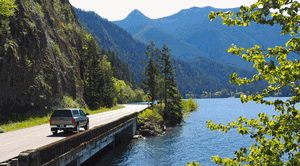 U.S. Highway 101 Lake Crescent and East Beach Rehabilitation DRAFT Environmental Assessment
Olympic National Park, together with the Federal Highway Administration is seeking public input on the proposed rehabilitation of U.S. Highway 101 and East Beach Road within the park's Lake Crescent area. The Environmental Assessment (EA) for U.S. Highway 101 and East Beach Road Rehabilitation was released today.
"Last year's public comment during the early planning stages was invaluable in shaping the EA and proposed alternatives for the project," said Olympic National Park Superintendent Sarah Creachbaum. "We invite the public to now review the EA and provide us with their comments and suggestions."
The proposed rehabilitation project will include resurfacing the 12.3-mile section of U.S. Highway 101, replacing over 44,000 linear feet of guardrail and replacing drainage structures and retaining walls. On East Beach Road, drainage structures will be replaced and safety and pavement conditions improved.
Rehabilitation work is slated to begin in 2017, but the schedule is still subject to change.
The EA analyzes effects of rehabilitating the roads. Two action alternatives are analyzed and reflect input provided during last year's public comment period, including the option for night work, no full closure of the highway, and advance notification of longer delays.
Hard copies of the EA for the U.S. Highway 101 and East Beach Road Rehabilitation are available for public review at the reference desks of the four North Olympic Library System (NOLS) branches, Port Angeles, Forks, Sequim and Clallam Bay.
In addition, two public meetings are scheduled this month, as follows.
Monday, April 18th
5:00 p.m. - 7:00 p.m. with presentations at 5:00 p.m. and 6:00 p.m.
Port Angeles Senior Center Dining Room
328 E. 7th Street
Port Angeles, WA 98362
Tuesday, April 19th
4:00 p.m. - 6:00 p.m. with presentations at 4:00 p.m. and 5:00 p.m.
Rainforest Arts Center
35 N. Forks Ave.
Forks, WA 98331
"The Lake Crescent Highway is a vital transportation link and important to the regional economy and quality of life," said Olympic National Park Superintendent Sarah Creachbaum. "Rehabilitating the road is crucial for providing a safe and reliable travel route for area residents and visitors."
Public comments should be submitted here on this website by April 30, 2016.
Comment Period:
Closed 04/01/2016 - 04/30/2016

Document Content:

3-21-16 Public Review Draft EA.pdf
(53.2 MB, PDF file)
Disclaimer:
Links within the above document(s) were valid as of the date published.
Note:
Some of the files may be in PDF format and can be viewed using the Adobe Acrobat Reader software.
You may download a free copy of Acrobat Reader from Adobe Systems.