Project Links
Share this on:
(non-NPS links)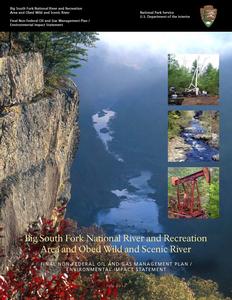 Non-Federal Oil and Gas Management Plan Record of Decision and Summary Plan
The National Park Service is pleased to announce the availability of the Record of Decision (ROD) for the Oil and Gas Management Plan (Plan) for Big South Fork National River and Recreation Area and Obed Wild and Scenic River.
On September 5, 2012, the Southeast Regional Director, approved the ROD for the plan, which is available below. The ROD identifies Alternative C (Comprehensive Implementation of 9B Regulations, a New Management Framework for Plugging and Reclamation, and Establishment of Special Management Areas) as the NPS's selected action.
The NPS has developed a user-friendly summary of the selected action, which can also be found below. The details of the plan and specific requirements for oil and gas owners and operators at the two parks are described in this easy-to-follow document.
The National Park Service looks forward to working more closely with our stakeholders, including oil and gas owners and operators, to ensure the ongoing protection of the natural and cultural resources of both parks for generations to come while providing reasonable access to private mineral rights.

Document Content:

Non-Federal Oil and Gas Management Plan Summary
(2.9 MB, PDF file)

Record of Decision for Non-Federal Oil and Gas Management Plan
(1.6 MB, PDF file)
Disclaimer:
Links within the above document(s) were valid as of the date published.
Note:
Some of the files may be in PDF format and can be viewed using the Adobe Acrobat Reader software.
You may download a free copy of Acrobat Reader from Adobe Systems.