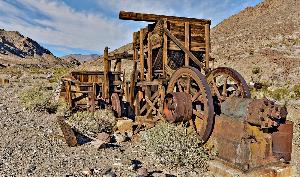 Gold Hill Mill - Contaminated Site Mitigation


NPS is committed to encouraging public participation and providing opportunities for communication between the NPS and the affected community, interested stakeholders, and community residents during the environmental investigation and cleanup activities at the Site.


Contact Information
Abby Wines
Public Information Officer
Death Valley National Park
abby_wines@nps.gov
760-786-3221



The National Park Service (NPS) is investigating, selecting, and implementing cleanup of contaminated soils at the Gold Hill Mill Site (Site). The NPS is conducting these cleanup activities at the Site pursuant to the Comprehensive Environmental Response, Compensation, and Liability Act (CERCLA), 42 U.S.C. §§ 9601, et seq. and its implementing regulations under the National Oil and Hazardous Substances Pollution Contingency Plan (NCP), 40 C.F.R. Part 300.