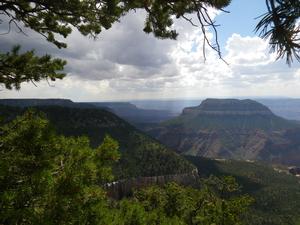 Initial Bison Herd Reduction at Grand Canyon National Park


Under the action alternative, the herd, which is approximately 400 to 600 animals, will be reduced over the next three to fewer than 200 utilizing lethal culling by skilled volunteers and non-lethal capture and transfer to cooperating agencies and tribes.

Given the current distribution, abundance, density, and the expected growth of this herd, the NPS is concerned about increased impacts on park resources such as water, vegetation, soils, archaeological sites, and values such as visitor experience and wilderness character. Reducing the herd size will protect Park resources and values.

NPS biologists estimate that the herd has grown from approximately 100 bison, brought to the House Rock Wildlife Area in the early 1900s, to between 400 to 600 bison. Though the bison roam the Kaibab Plateau, they spend most of their time on the north rim of the park. Biologists predict that the herd could grow to nearly 800 in the next three years and be as large as 1200 to 1500 animals within 10 years without further management actions to control the size of the herd.

Multiple agencies are involved with bison management on the Kaibab Plateau and this EA was prepared in collaboration with the Arizona Game and Fish Department, the U.S. Forest Service, the Bureau of Land Management, and the InterTribal Buffalo Council. Partner organization goals and objectives for bison management were considered in development of the EA and the Park and partner organizations are now actively developing specific operational guidelines for herd reduction and will announce opportunities and a process for tribal members and members of the public to participate in volunteer culling.



Contact Information
(928) 638-7900



Under the National Environmental Policy Act (NEPA), the National Park Service (NPS) has prepared an Initial Bison Herd Reduction Environmental Assessment (EA) which evaluated management actions that would reduce the House Rock bison herd located on Grand Canyon National Park's North Rim over the next three to five years. A Finding of No Significant Impact (FONSI) selecting the action alternative has been signed authorizing the Park.