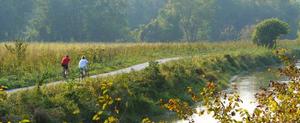 Trail Management Plan


The purpose of the plan is to develop a blueprint that will guide the expansion, restoration, management, operations and use of the trail system and its associated amenities over the next 15 years. The Final Plan presents a preferred alternative and the results of the public review of the draft plan and the NPS response to substantive comments.

Click the "Document List" link to the left to review all planning materials, including background information, newsletters and documents that have been provided to the public during the development of the Plan. Click the "Final Trail Management Plan Folder" to view the Final Plan.

Click on "Links" for a link to existing information on CVNP's current trails, their uses and other outdoor activities in the park.





Contact Information
Lisa Petit
Chief of Resource Management
Cuyahoga Valley National Park
15610 Vaughn Road
Brecksville, Ohio 44141



The National Park Service announces the availability of the Final Trail Management Plan and Environmental Impact Statement for Cuyahoga Valley National Park.