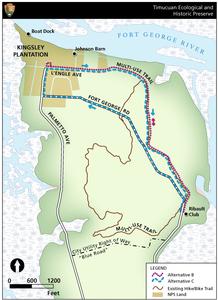 Kingsley Plantation - Ribault Club Interpretive Tram Tour
The National Park Service, Timucuan Ecological and Historic Preserve is proposing to improve the interpretive connectivity and visitor mobility between the Kingsley Plantation and the Ribault Club by providing an interpretive tram service. The proposed project would also include a new maintenance and storage facility for the trams and transportation stops at Kingsley Plantation and the Ribault Club. The proposed site for the maintenance and storage facility is located at the site of the "Johnson Barn" on Fort George Island and is adjacent to the Kingsley Plantation. The proposed tram would utilize existing infrastructure by operating along L'Engle Avenue and the Multi-use Trail, with the interpretive tram tour traveling in both directions along this route and requiring the vehicle to turn around at Kingsley Plantation and the Ribault Club (see Alternative B on the attached map). The route is 3.4 miles round trip. Visitors could board the tram at either site from the Kingsley Plantation parking lot and the Ribault Club driveway. The Multi-use Trail provides the best opportunity for historic and ecological interpretation and allows us to maximize visitor opportunity to learn about the history and ecology of Fort George Island.

Contact Information
If you are interested in receiving a paper copy of the EA or have questions regarding the proposal, please contact Shauna Ray Allen, Chief of Resource Stewardship and Partnerships, at 904-221-5568 or email: shauna_allen@nps.gov.