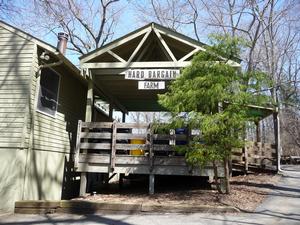 Development of Energy Efficient Visitor and Student Educational Facilities at the Alice Ferguson Foundation's Hard Bargain Farm Environment Center in the Scenic Easement of Piscataway Park


The AFF is planning to improve facilties at their site, including "living buildings" (environmentally "green" building constructed and maintained via sustainable materials and practices), systems, and operations. New buildings include replacement for the Wareham Lodge (same location) with 12,754sqft, a day use building with 3,010sqft, and sleeping cabin 1,308sqft. All sites are within previously disturbed and/or former agricultural areas.


Contact Information
Robert Mocko
Environmental Protection Specialist
1900 Anacostia Dr. S.E.
Washington, D.C. 20020
robert_mocko@nps.gov



NPS partner, the Alice Ferguson Foundation (Hard Bargain Farm Environmental Center), operates environmental education and other programs on their private property within the National Park Service scenic easement areas of Piscataway Park. The Piscataway Park scenic easements are to preserve the historic and natural landscapes (field and woodland mosaic) in veiwsheds of the historic Mount Vernon estate and Fort Washington.