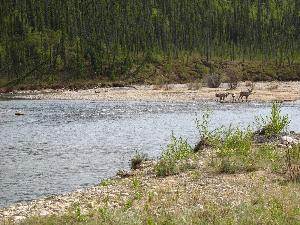 Revisiting Sport Hunting and Trapping on National Park System Preserves in Alaska


The purpose of revising the rule is to reinstate prohibitions on certain harvest methods that were implemented by the NPS in 2015 and then removed in 2020. The need for the revision of the rule is that the NPS has determined that the 2020 rule is not compatible with generally accepted notions of "sport" hunting and is in tension with NPS management policies that prohibit predator control on NPS lands.

The NPS proposes to 1. Prohibit methods considered inconsistent with "sport" hunting, including taking big game while the animal is swimming, taking wildlife from a motorboat, taking wolves and coyotes (including pups) during their denning period (May 1-August 9), and taking cubs or female bears with cubs; 2. Prohibit bear baiting in the preserves for "sport" hunting; 3. Prohibit predator control or predator reduction on the preserves. The NPS would therefore not allow harvest practices and activities or management actions that involve predator reduction efforts and associated natural ecological processes to increase harvest of ungulates; and 4. Revise the definition of "trapping" in 36 Code of Federal Regulations (CFR) Part 13 to clarify that trapping only includes activities that use a "trap" as that term is defined in 36 CFR Part 13.

Public Comments:

What WILL be accepted: online comments and mailed comments only.
- To comment online, please click the link to the left that says, 'Open for Comment.'
- To comment via mail, please address comments to: National Park Service, Regional Director, RE: Wildlife Rule EA, Alaska Regional Office, 240 West 5th Ave., Anchorage, AK 99501

What WILL NOT be accepted: bulk comments, email comments, or files on electronic storage devices such as flash drives and compact disks.


Contact Information
National Park Service, Regional Director
RE: Wildlife Rule EA
Alaska Regional Office
240 West 5th Ave.
Anchorage, AK 99501



The National Park Service (NPS) proposes through rulemaking to prohibit the same sport hunting and trapping methods that were prohibited in the 2015 Wildlife Rule. The proposed action is to prohibit certain sport hunting and trapping practices that were previously prohibited in a rulemaking process in 2015, and then removed from prohibition in 2020, in all NPS national preserves in Alaska. This proposed regulatory action reconsiders three topics in the 2020 rule: (1) the meaning and scope of hunting for "sport purposes" under ANILCA; (2) bear baiting; and (3) State law addressing predator harvest.