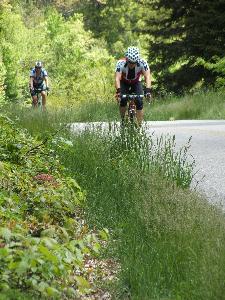 Ironman Triathalon 2022 - Special Use Permit for Cycling Portion


The IRONMAN Group has requested a full, two-lane motor road closure from mid-afternoon June 4, 2022 through mid-afternoon June 5, 2022 to ensure the safety of riders, motorists, and event staff; as well as to provide safe and expeditious movement of event support and emergency vehicles. The proposed closure would be approximately 21 miles from VA-43 at parkway milepost 91.0 to VA-24/Washington Avenue at Parkway milepost 112.2. Per Virginia Department of Transportation (VDOT) representatives, VA-43 from Buchanan to the Parkway will be fully closed during the event.

The IRONMAN Group estimates that for the 2022 event, 2,500 participants will compete in a 1.2 mile swim in Carvins Cove Reservoir in Roanoke County before embarking on the a 56 mile bicycle ride through Roanoke and Botetourt Counties and finishing with a 13.1 mile run on the Roanoke River Greenway in Roanoke. The cycling portions before and after the proposed Parkway section would be held on state and county roads.

Parkway closure requests as part of Special Use Permit events are regularly considered on a case-by-case basis and managed as one-time only permits. Because event organizers have submitted a closure request as part of the permit application for a second year of this large-scale, regional event, park managers are providing the opportunity to comment on any issue or concern related to a 21-mile closure for this proposed special event. Additional management costs related to this proposed permit and incurred by the National Park Service would be the responsibility of the event organizers, per National Park Service policy.

If you are interested in providing comment on the proposed road closure for the Special Use Permit, please click on the "open for comment" link on the left side of this page. A document link will appear, click "Select a document to review and comment" to review the proposal. To provide comments please click on the "comment now" button on the left side of the page. Public comment will be accepted from January 18 - February 1, 2022.


Contact Information
Matt Micale
Permits Coordinator
828-337-9484



The Blue Ridge Parkway (Parkway) is considering the impacts of an application submitted by World Triathlon Corporation d.b.a. The IRONMAN Group for a Special Use Permit (SUP) to allow portion of the cycling segment of the Carillion Clinic IRONMAN 70.3 Ironman Virginia's Blue Ridge triathlon to take place on the Parkway.