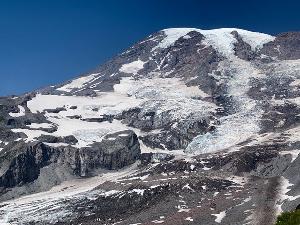 Air Tour Management Plan - Mount Rainier National Park


Background and Purpose:

The Act, as amended, requires that all commercial air tour operators conducting or intending to conduct a commercial air tour operation over a unit of the National Park system apply to the Federal Aviation Administration (FAA) for authority to undertake such activity. The Act further requires the FAA, in cooperation with the National Park Service (NPS), to establish an ATMP or voluntary agreement for each park that did not have such a plan or agreement in place at the time the applications were made.

The Act applies to areas within and 1/2 mile outside of a park, and to elevations below 5,000 feet above ground level (AGL). The Act requires that an ATMP include incentives for the adoption of quiet aircraft technology, and provide for the allocation of opportunities to conduct air tours when the ATMP limits the number of operations. An ATMP may prohibit commercial air tour operations (in whole or in part), and can establish conditions for the conduct of air tour operations (including routes, altitudes, time-of-day restrictions, restrictions for particular events, maximum numbers of flights, or other provisions).

FAA and NPS published a notice of intent for an ATMP and environmental assessment in April 2010 (75 FR 16899-16900, Apr. 2, 2010; 75 FR 18568-18569, Apr. 12, 2010). Public scoping was held from April 2 - May 12, 2010. Tribal, Section 106, and Section 7 consultation were also initiated in 2010. Alternatives were informed by comments received during public scoping and initial tribal consultation. Based on available data on air tour operations in 2010, there were approximately 55 air tour operations being flown, lower than the 114 flights permitted under interim operating authority (IOA). Public review of draft alternatives was held from March 29, 2011 - April 28, 2011. (76 Federal Register 17471, March 29, 2011) Additional tribal consultation meetings were held in 2011.

Amendments to NPATMA were passed in February 2012 requiring operators to report their annual air tour activity to NPS and FAA. The amendments also included an exemption from the requirement to develop an air tour management plan or voluntary agreement for parks with 50 or fewer annual air tours. FAA and NPS stopped substantive work on the ATMP and EA by September 2012 pending receipt of reporting data from operators to determine the actual number of air tours conducted and appropriate course of action if reported tours were below 50 per year. The reporting requirement was initiated in January 2013. Based on two years of reporting data that indicated the number of tours was below 50, Mount Rainier qualified for the exemption. However, in 2015, NPS determined an air tour management plan or voluntary agreement was necessary to protect park resources and values from noise impacts of air tours and withdrew the exemption for Mount Rainier. Adverse impacts of air tours on natural and cultural resources, including significant areas of designated wilderness, were identified as issues during internal and public scoping for the ATMP and were cited as reasons for withdrawing the exemption (letter from NPS to FAA, September 15, 2015 ) In 2017, FAA revoked IOA from four operators without operating certificates. After revocation, two operators have a combined total IOA of 34. Given the amount of time since this ATMP process was initiated, FAA and NPS terminated the earlier ATMP process on September 4, 2020 to start the development of ATMPs and associated environmental documents at Mount Rainier and 22 other parks (85 Federal Register 55060 - 55061, September 4, 2020 ).


Existing Conditions for Commercial Air Tours at Mount Rainier National Park

Two air tour operators, Rite Bros Aviation, Inc. and Classic Helicopter Corp., hold Interim Operating Authority (IOA) for a combined total of 34 flights over the Park each year. Rite Bros Aviation, Inc. holds IOA for 2 annual flights and Classic Helicopter Corp. holds IOA for 32 annual flights. Based on the three-year average of reporting data from 2017 to 2019 (annual reports available at Air Tours - Natural Sounds (U.S. National Park Service) (nps.gov), Rite Bros Aviation, Inc. conducts an average of one commercial air tour at the Park each year and Classic Helicopter Corp. has not reported any flights since 2013. Rite Bros Aviation, Inc. conducts commercial air tours on one route within the Park, which circumnavigates Mount Rainier either clockwise or counterclockwise, entering and exiting at the northwest corner of the Park. The route is flown using a Cessna 172, 206, or 207 fixed-wing aircraft, at an altitude of 3,000 ft. above ground level (AGL). Altitude expressed in AGL units is a measurement of the distance between the ground surface and the aircraft. The commercial air tours have been conducted between the hours of 10:00 AM and 3:00 PM and may occur any day of the week.

Under existing conditions, the annual number of commercial air tours at Mount Rainier National Park is limited by the IOA; however, there are no designated parameters on route, time-of-day, or altitude restrictions to further protect Park resources or visitor experience. Currently, no procedures are in place that allow the Park to establish no-fly periods for special events or planned Park management. There are currently no training or education requirements for commercial air tour operators flying over the Park. The provisions and conditions in the proposed ATMP address these parameters in a manner designed to protect Park resources and visitor experience from the effects of commercial air tours and support NPS management objectives for the Park.

In establishing an ATMP, the Act requires the agencies to publish the proposed plan for notice and comment and hold at least one public meeting. The public meeting for this ATMP will be held on August 16, 2021, and comments on this ATMP will be accepted from July 29 through August 28, 2021.

Section 106 of the National Historic Preservation Act (NHPA)

Pursuant to 36 CFR 800.2(a)(2), FAA has been designated the lead federal agency acting on behalf of NPS and is fulfilling the collective responsibilities of both federal agencies under Section 106 of NHPA. Section 106 consultations are currently ongoing.


Contact Information
Teri Tucker
Planning and Compliance, Mount Rainier National Park
360-569-6507

Submit written comments to:
National Park Service
Natural Sounds and Night Skies Division
MORA ATMP
1201 Oakridge Dr., Suite 100
Fort Collins, CO 80525



The Federal Aviation Administration (FAA) and the National Park Service (NPS) have prepared a draft Air Tour Management Plan (ATMP) for Mount Rainier National Park to delineate acceptable levels of commercial air tours including, but not limited to, frequency, duration, altitude, and routes, consistent with the National Parks Air Tour Management Act of 2000 (Act).