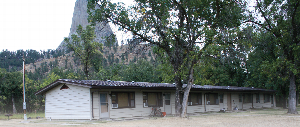 Replace Obsolete Housing Unit with Multiplex Unit at Devils Tower


The existing 6-unit, single-story building was built in 1961 as part of the Mission 66 Program. Four of the units are efficiency apartments and two units are one-bedroom apartments. None of the units in the housing building meet accessibility standards, and there is no fire suppression system in the building.


Contact Information
Brent Keay
Facility Manager



The National Park Service is studying the employee housing conditions at Devils Tower National Monument in Crook County, Wyoming. Currently, there is very limited housing available at the Monument and in the local communities. A new housing unit is needed to provide critical housing for permanent and seasonal staff including administrative, law enforcement, maintenance, resource management, and interpretation staff. The staff is critical to ensure safety and education to park visitors, resource protection, and facilities maintenance.