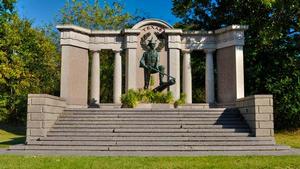 Stabilize Bluff to Protect Railroad Redoubt Earthworks and Texas Memorial


Vicksburg National Military Park was established on February 21, 1899, to protect areas associated with the siege and defense of Vicksburg, Mississippi. The Texas State Memorial is one of the park's 22 state memorials and is located above an eroding bluff adjacent to the Kansas City Southern rail line. The railroad redoubt was a Confederate earthen fortification built to protect the Southern Railroad of Mississippi, a vital entrance to the city. The fortification and the memorial are threatened by chronic erosion of the bluff. The entire battlefield area is listed in the National Register of Historic Places.

In accordance with the National Environmental Policy Act of 1969 (NEPA), the NPS has prepared an Environmental Assessment (EA) to evaluate these proposed actions. The EA addresses the project background, the purpose and need for the proposed actions, a determination of environmental issues and potential impacts resulting from the alternatives considered (including the no action alternative), and public involvement and agency coordination.



Contact Information
Superintendent
Vicksburg National Military Park
Attn: Stabilization EA
3201 Clay Street
Vicksburg, MS 39183




The National Park Service (NPS) proposes to mitigate continued erosion of the bluff adjacent to the Texas State Memorial and railroad redoubt within Vicksburg National Military Park in order to stabilize the site. The purpose of the project is to prevent further erosion while protecting the memorial and fortification.