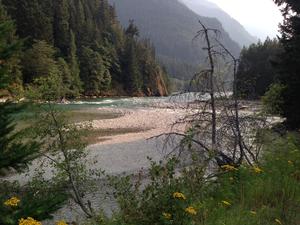 SCL: Diablo Powerhouse Tailrace Restoration


PROPOSED ACTION
The purpose of the proposed project is to restore hydropower generation capacity at the Diablo Powerhouse, which is part of Seattle City Light's (SCL) Skagit River Hydroelectric Project, while minimizing impacts to natural and cultural resources, and recreational uses in the project vicinity.

This action is needed because a gravel bar at the confluence of Stetattle Creek and Gorge Lake has expanded into the channel below the Diablo Powerhouse. Expansion of the gravel bar has caused a 2.8 foot loss in hydraulic head which has resulted in a loss of 87,173 megawatt hours of power production from 2004 through 2013. Power losses will worsen if no action is taken to restore the tailrace.

The proposed action (Alternative D in the EA) evolved following extensive coordination with the NPS over ways to minimize adverse environmental effects. The proposal would excavate and remove approximately 18,300 cubic yards of the gravel bar. Excavation would occur in phases by drawing down water levels in Gorge Lake and using temporary cofferdams to isolate the excavation area. Standard construction best management practices, such as settling ponds, silt curtains, and pump and treat systems, would be used to manage temporary suspended solid levels to meet state water quality standards for turbidity. Similarly, large wood structures would be installed and the eroding shoreline below Gorge Campground would be rehabilitated following excavation to enhance aquatic habitat in the vicinity of the project area. All excavated materials would be disposed of and used to rehabilitate an old dirt borrow pit on SCL property within Ross Lake NRA.

If the proposal is authorized by the NPS and approved by state and federal permitting agencies, excavation would begin at the end of July 2015 and be completed by the beginning of October 2015 to take advantage of low flows and avoid harming spawning fish. Construction would require closure of Gorge Lake Campground and boat launch for approximately two months during the 2015 summer season. Access would remain available to Diablo, including Sourdough Mountain trailhead.

HOW TO COMMENT
The EA may be downloaded via the "Open for Comment" link to the left. Hard copies of the EA are available for public review at North Cascades National Park Service Complex headquarters in Sedro-Woolley, the park's Wilderness Information Center in Marblemount, and the North Cascades Visitor Center in Newhalem. A copy of the EA is also available at the Seattle Public Library, Central Branch, 1000 4th Ave, Seattle. Limited copies are available on request by contacting noca_superintendent@nps.gov.

We encourage commenting online via this website. Comments may also be hand delivered or submitted via regular mail to: Superintendent, North Cascades National Park, ATTN: Diablo Tailrace EA, 810 State Route 20, Sedro-Woolley, WA 98284. Comments sent via email or fax will not be accepted. Comments must be submitted online, hand delivered, or postmarked by October 9, 2014.




Contact Information
Roy Zipp, NPS Environmental Protection Specialist, 360-854-7313
Elly Boerke, NPS Environmental Protection Specialist, 360-854-7328



Welcome! This website provides information for the proposed Diablo Powerhouse Tailrace Restoration project, including an Environmental Assessment (EA) prepared by the National Park Service to evaluate the potential effects of the proposal, and to enable public review and comment.