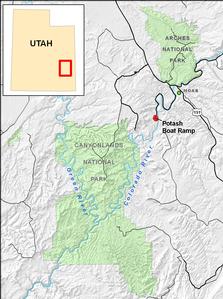 Upgrade Potash Boat Ramp


The National Park Service (NPS) has developed an environmental assessment (EA) for constructing new improvements to the Potash Boat Launch area near Canyonlands National Park. Though the Potash Boat Launch is on private land, the NPS and its partners (the landowner, Utah Guides and Outfitters Association and individual outfitters) want to improve the visitor experience for people conducting river trips on the Colorado River through Canyonlands National Park. The improvements would provide important information about the area, the trip ahead and Canyonlands National Park. Improvements will also provide basic facilities at the launch ramp for those launching river trips and using the area for the day. The EA would be developed to address the impacts the proposed projects may have on the visitor and other resources within the project area.
Proposed improvements by the NPS include constructing three shade structures to cover picnic tables, a private changing area, and three informational kiosks. An access trail from the picnic area to the boat launch would be established and access to the picnic area would be done via a new loop road behind the existing double vault toilets. The current parking area would be improved by re-grading and new gravel. The boundaries of the parking area would also become better defined and signs will inform visitors where to park when on overnight river trips.

This EA evaluates two alternatives: a no action and an action alternative. The no action alternative describes the current condition if no improvements were constructed, and the action alternative address the construction of the new improvements within the boat launch area.


Contact Information
Sabrina Henry 435-719-2135



Dear Interested Party: