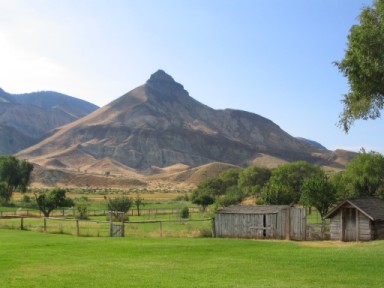 General Management Plan / Environmental Impact Statement
Dear Friends of John Day Fossil Beds,

On behalf of the planning team, I am pleased to share this Draft General Management Plan and Environmental Assessment for John Day Fossil Beds National Monument. As a reminder, the general management plan will provide overall guidance for the long-term management of the monument. The plan determines how the monument will address resource preservation, visitor use, development, and interpretation for the next 15 to 20 years.

The planning team has developed a set of three management alternatives that describe how each area of the monument would be managed for resources, visitor experience and park operations. Alternative B, the NPS preferred alternative, focuses on the enhancement of visitor experience opportunities while protecting cultural and natural resources. The comments and suggestions that many of you provided earlier were considered when developing the preferred alternative presented in the plan.

Please look at this draft and provide us your comments by November 17, 2008. You can submit your comments by any one of the following ways:

1) Submit written comments to the Superintendent, John Day Fossil Beds National Monument, 32651 Hwy 19, Kimberly, Oregon 97848

2) Attend one of our public meetings:

Tuesday, October 14th
6:30 - 9:00 PM
Dayville Community Hall

Wednesday, October 15th
6:30 – 9:00 PM
Wheeler County Family Services Building
401 Fourth Street
Fossil, Oregon

Thursday, October 16th
6:30 – 9:00 PM
Malheur National Forest Supervisors Office
431 Patterson Bridge Road
John Day, Oregon

3) Submit comments on this website by clicking on the "Document List" link on the left, and selecting the Draft General Management Plan document.

I welcome your continued participation in this important planning effort, and look forward to hearing from you.

Sincerely,

James F. Hammett
Superintendent


Contact Information
Shirley Hoh
Resource Manager
John Day Fossil Beds National Monument
32651 Highway 19 Kimberly, OR 97848-9701
541-987-2333.