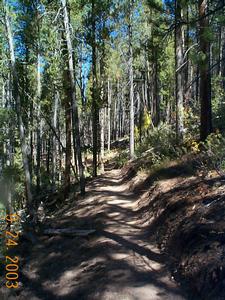 East Shore Trail Rulemaking for Bicycle Use
Dear Reader:
In February 2015, after considering the environmental consequences described in the Environmental Assessment, and public input, the Director of the Intermountain Region of the National Park Service signed a Finding of No Significant Impact (FONSI) that would allow bicycle use on a two mile section of the East Shore Trail within Rocky Mountain National Park. To safely accommodate bicycles, and for the sustainability of the trail, a 1/4 mile section of the trail must be rerouted. Per the NPS Bicycle Rule (36 CFR4.30), and based upon a review by the Office of the Regional Solicitor, the 1/4 mile reroute is considered a "new trail," and rulemaking is required before the reroute can be constructed and the trail designated for bicycle use.
The proposed rule was published in the Federal Register on December 1, 2015. Public comments on the proposed rule were accepted until February 1, 2016. You can review the Federal Register Notice and the public comments here:
https://www.regulations.gov/docket?D=NPS-2015-0007
After considering public comments on the proposed rule, the NPS has decided to implement the selected action in the FONSI and authorize the Superintendent to designate bicycle use on a two mile segment of the East Shore Trail within the park. This decision is being documented with the publication of a final rule in the Federal Register.
Sincerely,
Darla Sidles
Superintendent
Contact Information
Larry Gamble
Chief, Branch of Planning & Compliance
Rocky Mountain National Park
Estes Park, CO 80517
(970) 586-1320
larry_gamble@nps.gov