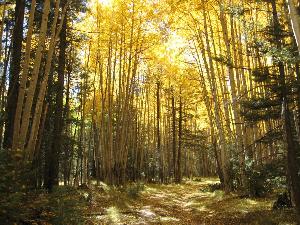 Valles Caldera National Preserve - General Management Plan / Development Concept Plan
Valles Caldera National Preserve is preparing a general management plan/development concept plan to establish long-term direction for resource protection and visitor experiences at the park, as well as high-level concepts to guide future development and facility investments. The plan builds on a management zoning effort undertaken in 2021, which initiated the process of exploring a variety of desired future resource conditions and visitor experiences to be achieved and maintained in different areas of Valles Caldera.
Parallel to the general management plan/development concept plan, the park is also undertaking wilderness eligibility and wild and scenic river assessments. Outcomes of these assessments will inform the plan. More information is included in press release for each respective effort, available under the 'LINKS' tab on the left menu.
Located in the Jemez volcanic field at the intersection of two major fault systems, the 88,900-acre park encompasses some of the most unique geologic, ecological, and landscape characteristics in the southwest; preserves the nexus of cultural heritage; and is an ecosystem in recovery from past resource exploitation. The general management plan/development concept plan will focus on establishing a management vision that balances the restoration and conservation of park resources with enhanced visitor opportunities.
Thank you to all members of the public who engaged with us during the public comment period from May 8, 2023, to June 9, 2023. Your input will help the National Park Service refine, improve, and/or expand preliminary ideas. If you would like to learn more about the initial management ideas and development concepts presented during the recent public comment period, a recording of a virtual presentation can be accessed here:
https://www.youtube.com/watch?v=D0cwbWL89Yo
. A digital storymap is also available, in English and in Spanish, under the 'DOCUMENT LIST' tab on the left menu.
The National Park Service will also provide the public an opportunity to review and comment on a future draft plan and the associated documents prepared for compliance with the National Environmental Policy Act, anticipated in winter of 2024.
Thank you for your interest in the future of Valles Caldera!
- - - - - - - - - - - - - - - - - - - - - - - - - - - - - - - - - - - - - - - - - - - - - - - - - - - - - - - - - - - - - - - - -
[español]
La Reserva Nacional Valles Caldera está elaborando un plan de administración general y plan conceptual de desarrollo para la Reserva Nacional Valles Caldera con el fin de establecer el rumbo a largo plazo de la protección de recursos y las experiencias de los visitantes del parque, así como conceptos de alto nivel que orientarán el desarrollo y la inversión en instalaciones en el futuro. El plan se basa en la campaña de zonificación administrativa emprendida en 2021 con la que inició el proceso de explorar una variedad de condiciones de recursos y experiencias para los visitantes, deseables para el futuro, que se alcanzarían y mantendrían en diferentes áreas de Valles Caldera.
Paralelamente al plan de administración general y plan conceptual de desarrollo, el parque está llevando a cabo evaluaciones de elegibilidad de la naturaleza y de los ríos silvestres y escénicos. Los resultados de esas evaluaciones le darán forma al plan. Hay más información en los boletines de prensa de cada campaña, disponibles en la pestaña "LINKS" del menú a la izquierda.
Situado en el campo volcánico de Jemez, en la intersección de dos grandes sistemas de fallas geológicas, el parque de casi 36,000 hectáreas abarca algunas de las características geológicas, ecológicas y paisajísticas más distintivas del sureste, preserva el nexo de la herencia cultural y es un ecosistema en recuperación de la explotación de sus recursos en el pasado. El plan de administración general y plan conceptual de desarrollo se centrará en establecer una visión administrativa que equilibre la restauración y la conservación de los recursos del parque con mejores oportunidades para los visitantes.
Gracias a todos los miembros del público que se comprometieron con nosotros durante el periodo de comentarios públicos, del 8 de mayo al 9 de junio de 2023. Las opiniones del público ayudarán al National Park Service a refinar, mejorar y ampliar las diversas ideas propuestas. Si desea obtener más información sobre de las ideas de administración y los conceptos de desarrollo preliminares que están a consideración, la grabación de una presentación está disponible aquí:
https://www.youtube.com/watch?v=D0cwbWL89Yo
. También se puede ver un esquema narrativo, en Ingles y en español, en la pestaña "DOCUMENT LIST" en el menú a la izquierda
El National Park Service también le ofrecerá al público la oportunidad de revisar y comentar el borrador del plan y los documentos relacionados elaborados en cumplimiento de la Ley de Política Ambiental Nacional, que se prevé para el invierno de 2024.
¡Gracias por su interés en el futuro de Valles Caldera!
Contact Information
Vall_compliance@nps.gov / 575-829-4100 x9
[texto en español está debajo]