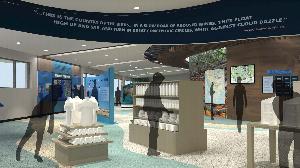 Rehabilitate Flamingo Visitor Facility/Guy Bradley Visitor Center


The proposal includes both interior and limited exterior alterations of the structure that will result in hardening the facility to withstand major storm events, incorporating Leadership in Energy and Environmental Design (LEED) qualities, and providing accessibility consistent with the Americans with Disability Act, and all of the associated planning and design work. All occupied space in this facility will be on the second level to minimize storm impacts.

The goal is to convert the former restaurant into a modern visitor center. The structure, which has national historical significance, is 58 years old and constructed during the National Park Service Mission-66 era. Improvements include replacing all mechanical and electrical systems, the building elevator, architectural finishes, and built-in furnishings. New facility features include: substantial interpretive and educational space, museum/exhibit space, multi-purpose meeting room, conference room, bookstore, backcountry permit area, restrooms, and staff offices. Upgrades to the former visitor center area will support park law enforcement and resource protection operations.

This project is part of the vision established in the Flamingo Commercial Services Plan/Environmental Assessment, which also included the building of a new elevated restaurant along with cottages within the former Flamingo Lodge site, as wells as numerous other Flamingo-area improvements.

To honor his life and historic conservation achievements, the Park is also proposing to change the name of the visitor center to the Guy Bradley Visitor Center.



Everglades National Park is proposing to rehabilitate the Mission 66-era Flamingo Visitor Center Building Complex, which includes the former Flamingo Visitor Center and Flamingo Restaurant buildings connected by the 2nd story breezeway.