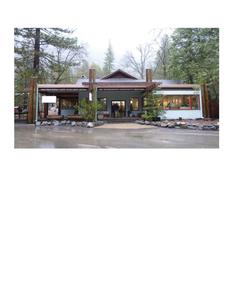 Ansel Adams Gallery Comprehensive Rehabilitation


After more than 90 years in service, the Ansel Adams Gallery Complex Buildings are in need of rehabilitation. A 2002 Facility Assessment recommended that the main building undergo substantial stabilization and rehabilitation, and the residences either be substantially stabilized and rehabilitated or completely replaced due to their deteriorating condition. Minor repairs have been made since then. However, major comprehensive repairs are still needed to rehabilitate the structures.

The environmental assessment evaluates the No Action Alternative and three action alternatives. The alternatives include:
• Alternative 1 (No Action) - assumes that existing conditions would continue including routine maintenance and repairs.
• Alternative 2 (Conservation) - focuses on the preservation and repair of existing fabric and intact character-defining features.
• Alternative 3 (Building Performance) - maximizes building performance by providing a higher degree of seismic safety and energy efficiency with a greater level of intervention.
• Alternative 4 (Balanced Rehabilitation - balances conservation of historic fabric and the optimization of building performance.

Alternative 4, the environmentally preferred alternative and the NPS Preferred Alternative, balances conservation of historic fabric and optimization of building performance. This alternative rehabilitates the Ansel Adams Gallery Complex using architectural and structural design tailored to improve building performance and retain historic integrity. To implement comprehensive seismic and structural strengthening and energy efficiencies, this alternative would preserve and repair certain historic materials and elements where feasible, and replace in kind others. Alternative 4 would provide reasonable accessibility, safety, site circulation, and drainage improvements while retaining the historic materials and features that characterize the property.

To view the environmental assessment document and comment on this project, click on the "Open for Comment" link on the lefthand side of this screen.


Contact Information
Environmental Planning and Compliance Office
P.O. Box 700
El Portal, CA 95318
209-379-1365



The Ansel Adams Gallery Complex is located in Yosemite Valley on the mall, adjacent to the Visitor Center. This project includes the Ansel Adams Gallery and two residence behind the Gallery. These buildings are historic for their association with the internationally recognized photographer, Ansel Adams who lived and worked there for half a century. Originally constructed as Best's Studio in 1902, and improved upon and occupied by Ansel Adams and his family through the 1970s, these buildings are in the Yosemite Valley Archaeological District, the Yosemite Village Historic District, and on the National Register of Historic Places.