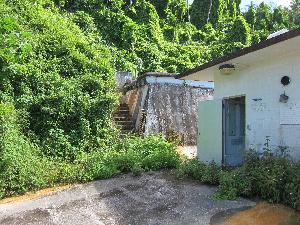 Asan Springs Water Supply Facilities - Guam Waterworks Authority Project No. W11-003-BND


The concrete reservoir was constructed by the U.S. Navy in 1916 to impound the flow from the Asan Springs. Since then, it was improved by adding a pump station and chlorinator building. However, it was shut down in 2004 due to bacterial contamination and inadequate chlorination to treat the water. This project would upgrade the existing system to provide a clean, dependable water source meeting water quality standards, reduce the demand for additional wells and pumping systems, and avoid purchasing water from the Navy for villages that could be supplied with Asan Springs water.

Other options proposed by the Guam Waterworks Authority include:

• rehabilitation and restart of the existing system,
• closure of the existing system with installation of a new well and pumping system,
• abandonment of the system with installation of a new well and pumping system, and
• taking no action.

How to Provide Input
The public is invited to learn more about this project and provide input which will be used to evaluate issues and concerns to be further addressed in the environmental review process using "Open For Comment" tab on the left of this page. Comments may also be sent by mail or email:

Mail:
Attn: Asan Springs
National Park Service
135 Murray Boulevard, Suite 100
Hagåtña, Guam 96910

Email: AsanSprings@nps.gov

The NPS will accept input until April 30, 2022. If you include an address, phone number, e-mail, or other personal identifying information, you should be aware that your entire input - including personal information - may be made publicly available at any time. You may ask us to withhold your personal information from public review, but we cannot guarantee we will be able to do so.


Contact Information
Tim Clark - (671) 477-7278 x 1010



The National Park Service (NPS) invites the public to provide input on proposed options to restore the Asan Springs water supply facility, which is partially on NPS lands in Asan village. The Guam Waterworks Authority (GWA) is proposing to restore the facility to increase input to the Agana-Asan-Piti Integrated Water Supply and Storage System to meet water supply demands in west central Guam. The NPS is reviewing the request and would like to inform the public about the project and provide an opportunity for public input.