Project Links
A comment period for this project closes May 19, 2021:
Days, Hours, Min.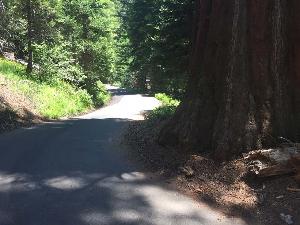 Rehabilitate 15.29 Miles of the Mineral King Road in Sequoia National Park


The proposed action includes re-paving the roadway within its existing width (including slightly more than one mile which is currently not paved), stabilizing and reinforcing cutslopes and the outside edge of the roadway, replacing and enlarging over 200 culverts, paving six currently unpaved parking lots near the end of the road, and adding accessible parking and equivalent experiences where feasible. Given the short construction season at high elevations, temporary road closures would likely be necessary throughout construction. The NPS anticipates that construction would begin, at the earliest, in 2023 and would occur over the course of several years.

Related to this effort, Tulare County is also looking to rehabilitate four miles of the County portion of the road just below the historic Oak Grove Bridge.

Additional information on the NPS proposed action is available in the "documents" section of this project website. Interested parties can also participate in a virtual webinar on Tuesday, April 27 at 4:00 p.m. (PST). For additional information on the webinar, visit "meeting notices" section of this project website.

Public comments on the proposed action will be accepted via this project website April 20th until midnight, May 19th, 2021. Comments that provide insights about the current proposed action and potential mitigations around public closures are particularly helpful.

Following the public comment period, the NPS will analyze and consider all feedback, will modify and evaluate the proposed action as appropriate, and will move toward finalizing environmental reviews in compliance with the National Environmental Policy Act, the National Historic Preservation Act, and other applicable laws and policies.

Originating in Three Rivers, California and climbing over 6,500 feet in 25 miles to the road's terminus in the Mineral King Valley, the Mineral King Road provides access to hundreds of miles of wilderness trails within Sequoia National Park as well as two NPS front country campgrounds, Silver City Resort, and the small community of Mineral King.


Contact Information
Elly Boerke
Environmental Planning and Compliance Program Manager
559-769-0046



The National Park Service (NPS), in partnership with the Federal Highway Administration, is proposing to rehabilitate 15.29 miles of the Mineral King Road within Sequoia National Park.