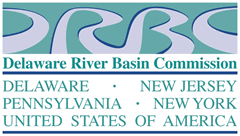 Delaware River Basin Commission


To view proposed Article 7 and supporting documents, click "Document List" in the column to the left.

To comment on proposed Article 7, click "Open For Comment" in the column to the left.


Acknowledgment and Disclaimer: The Delaware River Basin Commission (DRBC or Commission) thanks the National Park Service (NPS) for allowing it to use the NPS's Planning, Environment and Public Comment site (PEPC) to facilitate the submission of written comments on the Commission's proposed rulemaking. The DRBC is not a unit, entity or affiliate of the National Park Service or the U.S. Department of the Interior (DOI). The Commission is a federal interstate compact agency charged with managing the water resources of the Delaware Basin without regard to political boundaries. Its commissioners are the governors of the four Basin states – Delaware, New Jersey, New York and Pennsylvania – and a federal representative, the North Atlantic Division Commander of the U.S. Army Corps of Engineers. The Commission's use of this site in no way implies that the NPS or DOI have approved or concur with the proposed regulations or any other document that may be posted hereon, or have seen or approved the posting of any of the documents posted hereon.

All members of the public, regulated community, and officials of federal, state and local governments, including the National Park Service (or units thereof) with an interest in management of the Basin's water resources, are invited to submit comments on proposed regulations of the Commission. The Commission alone is responsible for compiling, analyzing and responding to such comments.



The Delaware River Basin Commission ("Commission") is proposing a new Article 7 of its Water Quality Regulations to protect the water resources of the Delaware River Basin during the construction and operation of natural gas development projects. This Article establishes requirements to prevent, reduce or mitigate depletion or degradation of surface and groundwater resources and to promote sound practices of watershed management. The new Article, to be codified as "Article 7: Natural Gas Development Regulations" of the Commission's Administrative Manual, Part III – Water Quality Regulations, 18 CFR 410, applies to all natural gas development projects involving siting, construction or use of production, exploratory or other wells in the Basin regardless of the target geologic formation, and to water withdrawals, well pad and related activities and wastewater disposal activities comprising part of, associated with or serving such projects. The provisions of this Article rely on the state oil and gas regulatory programs of Pennsylvania and New York where separate administration by the Commission would result in unnecessary duplication. This Article supersedes the Executive Director Determinations issued on May 19, 2009, June 14, 2010 and July 23, 2010.