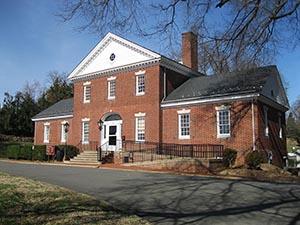 Rehabilitate Information Desk at Fredericksburg Battlefield Visitor Center


The Fredericksburg Battlefield Visitor Center has evolved from its original intent as the park administration building in 1936 to a present-day visitor center serving the National Park Service on the Fredericksburg Battlefield. In the past seventy-five years, the interior has been adapted from its original use as park administrative offices to a visitor-use area to both interpret and orient park visitors to the battlefield and park resources.

As visitation to the park has risen over the past fifty years, the adapted use of the entrance floor as a visitor use area has revealed many flaws in traffic patterns and flow. 60,738 visitors passed through the visitor center doors in 2017. The information desk currently sits right next to the entrance, in a space that had originally been designed as an office. Its location and use as an information desk and visitor service area results in crowded conditions that block the entrance door. The counter is five feet in length and not adequate to serve the visitors, which form lines that block the door. In 2017, the park built a temporary additional section of information desk that extended the desk away from the entrance. This temporary extension is not anchored to any fabric, but is freestanding. It was also built at a height to provide handicap access, as the current the desk is too tall for visitors and staff in wheelchairs.

Additionally, the existing park visitor desk area is not accessible to staff who utilize wheelchairs. The enclosed desk space is accessed by staff through a narrow door of 2.5 ft. in width. A park employee in a wheelchair would not be able to access the desk space and would therefore be hindered in his/her ability to offer personal services at the desk.

The park is proposing to make alterations to the information desk space to better serve both the public and the staff that work behind the desk.

See attached Section 106 Effect Report and associated documents for details.



Fredericksburg and Spotsylvania NMP proposes to rehabilitate the information desk at the Fredericksburg Battlefield Visitor Center.