Project Links
A comment period for this project closes Jul 01, 2021:
Days, Hours, Min.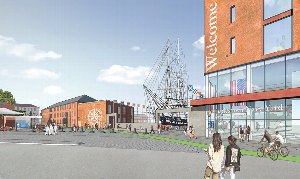 Implement Charlestown Navy Yard Master Development Strategy
Contact Information
Robert Wilbur, Deputy Superintendent, (617) 242-5636



The National Park Service, in partnership with the U.S. Navy and the USS Constitution Museum, has developed a master development strategy for the Charlestown Navy Yard intended to improve the visitor experience and address deferred maintenance of buildings and facilities within the yard. One of the key elements of the development strategy is the concept of a Gateway Center located at the primary entrance to the park from the Freedom Trail, a site currently occupied by an abandoned warehouse known as Hoosac Stores. Other elements of the strategy involve the potential removal of Building 109, a structurally deficient building at the outer end of Pier 1, and its replacement with a ghost structure to provide shade for visitors participating in park programs or waiting for ferries at the landing point at the end of the pier; and reconfiguration of the existing athletic courts to enhance the view of the sea from the Commandant's House. This concept would be part of the activation of the Commandant's House lawn and the Shipyard Mall as a "Great Lawn" for visitor use. To assess the impacts of these actions, the General Services Administration on behalf of the National Park Service has initiated a planning process leading up to the preparation of environmental analysis of these proposed actions in accordance with the National Environmental Policy Act (NEPA).