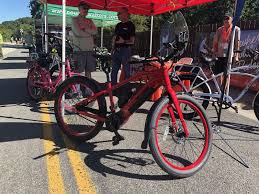 Superintendent's Compendium Update for Electrical Bicycle Use in Cuyahoga Valley National Park


The policy supports Secretary's Order 3376, signed by U.S. Secretary of the Interior David Bernhardt on August 29 that directs Department of the Interior (DOI) bureaus to create a clear and consistent e-bike policy on all federal lands managed by the Department. The policy also supports Secretary's Order 3366 to increase recreational opportunities on public lands. The regulation allows park superintendents to tailor the use of e-bikes by bike class or by trail in consideration of safety concerns, resource protection needs or other conflicting uses.

This new policy will enable visitors to use e-bikes, low-speed electric bicycles with power assistance, in the same manner as traditional bikes in the Park, allowing them on park roads and campgrounds. The operator of an e-bike may only use the motor to assist pedal propulsion. The vehicles resemble traditional bikes and are virtually silent. Their small motors, which are less than 750 watts and run on rechargeable lithium batteries, give riders a bit of pedaling assistance. The motor may not be used to propel an e-bike without the rider also pedaling, except in locations open to public motor vehicle traffic. Depending on the model, riders can dial in their desired level of help. Classes 1 and 2 add power until the bike reaches 20 mph. Class 3 e-bikes will provide a power assist up to 28 mph. The latter are still prohibited in national parks,

Assistant Secretary Rob Wallace selected Cuyahoga Valley National Park out of all the National Parks as the site for the official announcement for Fish and Wildlife and and the National Parks on September 5, 2019. The Park will retain the right to limit, restrict, or impose conditions of bicycle use and e-bike use in order to ensure visitor safety and resource protection. Over the coming month, Park management will work with our local communities, staff and partners to determine best practices and guidance for e-bike use in the park. Visitors should check for details about e-bikes in the Park.


Contact Information
Pam Barnes
(440) 241-5857



The National Park Service (NPS) has instituted a change in the regulation of bicycle use in the National Parks. These new regulations allow three classes of electric bikes (e-bikes) to be used on the same trails as traditional bikes. Cuyahoga Valley National Park (CVNP, the Park) is considering how to implement this change on the park's existing bike trails. On August 30, 2019, NPS announced a new electric bicycle (e-bike) policy for national parks, expanding recreational opportunities and accessibility.