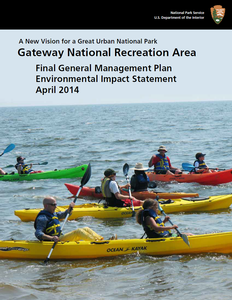 General Management Plan / Environmental Impact Statement Newsletter - Summer 2009
We Welcome Your Ideas and Comments:
Gateway National Recreation Area is beginning work on a new General Management Plan (GMP). A GMP is the roadmap that lays out a vision for where the park wants to be and provide directions for getting there over the next 20 years. Your ideas and suggestions will help us to create that vision for what kind of place we want Gateway to be in the future. Along the way, there will be many opportunities for you to make your voice heard.
Comment Period:
Closed 07/15/2009 - 12/31/2009
Topic Questions Instructions:
Please review the newsletter, and feel free to comment on anything you read in it. In particular, please take note of the "Topic Questions" we have identified, and address them individually. It would be very helpful if you identified or labeled the topic (A, B, C, D, E or F) each of your answers relates to, so we are sure which answer relates to which topic you reply to.

Thank you!
Topic Questions:
1. A) What should Gateway look like in 20 years?

B) What do you enjoy most about Gateway now?

C) How can Gateway best protect its historic sites, woods, wildlife, and waters through 2029?

D) What programs would you like to see at Gateway?

E) How can technology connect Gateway to new audiences including people that live far away?

F) What should Gateway do to become a "green" or more environmentally friendly park?

Document Content:

General Management Plan / Environmental Impact Statement Newsletter - Summer 2009
(1.1 MB, PDF file)
Disclaimer:
Links within the above document(s) were valid as of the date published.
Note:
Some of the files may be in PDF format and can be viewed using the Adobe Acrobat Reader software. You may download a free copy of
Acrobat Reader
from Adobe Systems.