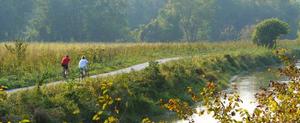 General Information - Trail Management Plan
The National Park Service, in cooperation with Cleveland Metroparks and Metro Parks, Serving Summit County, is developing a Comprehensive Trail Management Plan (TMP) and Environmental Impact Statement (EIS) for the Cuyahoga Valley National Park (CVNP). This Plan is needed as a strategic tool to guide the future course of trail management and development in Ohio's only National Park. The broad purpose of the TMP is to identify management objectives and strategies to guide the development, protection, management, operations and use of the trail system within CVNP over the next 15 years to meet new challenges and opportunities.
The TMP will identify issues, assess its existing trail system, establish objectives, and develop alternatives for the park's future trail network. Through an extensive public involvement process and preparation of an EIS, the NPS will develop a preferred trail plan alternative and an implementation strategy for the park.
The NPS invites the public to be involved in the planning process. We kicked off the Plan with Public Open Houses in February. Documents relevant to the planning process are available below for review, including the parks original 1985 Trail Plan and our Plan Newsletters that provide updates on the planning process.
UPDATE: An update (October 2011) provides a brief snapshot of the current status of the project.
Comment Period:
Closed 01/12/2010 - 03/15/2010

Document Content: