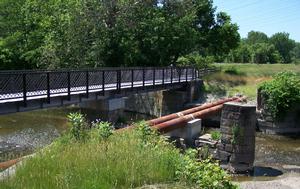 Tinker Creek Aquaduct Replacement - Environment Assessment
The National Park Service has completed an Environmental Assessment (EA) that analyzes the potential impacts of the replacement of the Tinkers Creek Aqueduct. The EA compares a No Action Alternative (status quo) to a preferred Alternative which includes the installation of new aqueduct structure, a pile foundation system, the rehabilitation of the abutments and center pier and the removal of the temporary conveyance system of steel pipes and overflows. The document is available for download below.
The NPS used a streamlined EA process for this project, as outlined in the new Department of the Interior regulations at 43 CFR 46.310(b). An abbreviated comment period (extended through the holiday weekend) was open November 5-29, 2009.
A Finding of No Significant Impact (FONSI) was signed on December 21, 2009 which approves of the proposed action.
Comment Period:
Closed 11/05/2009 - 11/29/2009

Document Content: