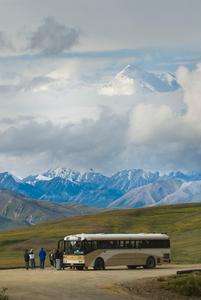 Denali Draft Vehicle Management Plan for Public Comment
The Vehicle Management Plan for Denali National Park is available for public comment from August 1 to October 31, 2011. The comment period has been extended beyond the original end date of September 30, 2011.
Several files have been created for ease of use by the public. You can view the entire document by clicking on the file named:
Draft-DENA-VMP-JULY-2011-Entire Document.pdf (Size 8.3MB).
For a slower internet connection, the document is broken down into smaller files with the following names and descriptions:
Draft-DENA-VMP-Part 1.pdf (abstract, executive summary, table of contents)
Draft-DENA-VMP-Part 2.pdf (Chapters 1 and 2)
Draft-DENA-VMP-Part 3.pdf (Chapter 3)
Draft-DENA-VMP-Part 4.pdf (Chapters 4 and 5)
Draft-DENA-VMP-Part 5.pdf (appendices, references, index)
*****Special Note: A new file has been added to that has links to documents used in preliminary development of the VMP. See the document list below to access this information.*****
Comment Period:
Closed 07/29/2011 - 10/31/2011

Document Content: