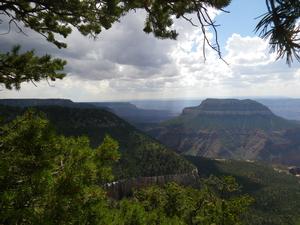 Initial Bison Herd Reduction Environmental Assessment
Given the current distribution, abundance, and density of the House Rock Bison herd, and the expected growth of this herd, the NPS is concerned about increased impacts on park resources, such as water, vegetation, soils, and archaeological sites; and on values such as visitor experience and wilderness character.
Therefore, the purpose of the actions evaluated in this EA are to (1) quickly reduce bison population density in collaboration with other agencies with jurisdiction for bison management on the Kaibab Plateau, and (2) protect Grand Canyon National Park resources and values from the impacts of a steadily growing bison population.
Through the preferred alternative, the NPS, working together with cooperating agencies and partners, would reduce the bison herd to fewer than 200 animals using lethal culling with skilled volunteers and non-lethal capture and removal. Considering the size of the current bison population, the proposed herd reduction could be achievable over a period of three to five years.
The NPS seeks the public's thoughtful review and comments during the 30-day comment period, which concludes on June 7, 2017. To be most helpful, the NPS is seeking your input on:
• the purpose and need for action;
• environmental issues / impact topics analyzed;
• alternatives, including mitigation measures which could reduce potentially harmful effects; and
• the information used to describe the affected environment and environmental consequences.
Comments which are not helpful include those which:
• vote for or against a potential management practice, tool, or alternative without giving reasons why;
• agree or disagree with laws, regulation, or NPS policy;
• discuss other projects or other areas; and/or
• contain vague, open-ended questions.
Interested parties can submit comments either electronically on this website (the preferred method of receiving comments); via U.S. Postal Service at Grand Canyon National Park, PO Box 129, Attn: Bison Management Plan EA, Grand Canyon, AZ 86023; or at one of the in-person public meetings (information available by clicking on the 'Meeting Notices' link). Comments will not be accepted by fax, email, or by any method other than those specified above. Bulk comments in any format (hard copy or electronic) submitted on behalf of others will not be accepted.
Comment Period:
Closed 05/09/2017 - 06/14/2017

Document Content: