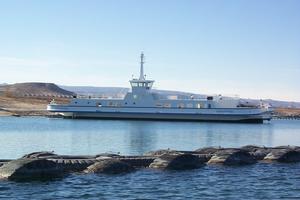 Charles Hall Ferry Improvements EA Scoping Notice
The National Park Service (NPS) is seeking public input regarding the proposed improvements and extensions the Charles Hall ferry terminal roads and ramps on State Route 276 (SR-276) in Bullfrog and Halls Crossing, Utah within Glen Canyon National Recreation Area. The proposed ferry terminal road and ramp improvements would be completed in partnership with the Utah Department of Transportation (UDOT). The project areas are within Kane and San Juan Counties, Utah.
An Environmental Assessment (EA) will be prepared in compliance with the National Environmental Policy Act (NEPA) to provide a decision-making framework that 1) analyzes a reasonable range of alternatives to meet project objectives, 2) evaluates potential issues and impacts to park resources and values, and 3) identifies mitigation measures to lessen the degree or extent of adverse impacts. The project will also comply with Section 106 of the National Historic Preservation Act and all other applicable laws and regulations.
Public comments will be used to help inform the development of an environmental assessment (EA) in compliance with the National Environmental Policy Act (NEPA) and the National Historic Preservation Act (NHPA). The EA will consider the potential effects to cultural and natural resources, visitor use and experience, and park operations.
All comments, questions, and suggestions related to the project are welcome. During the public scoping period the following types of comments are particularly helpful:
1) Information about the project area that the NPS should consider during the analysis,
2) Information about how you use the project area and how the project might affect that use,
3) Other projects or activities that might affect or be affected by the project, and
4) Other ideas or alternative ways of meeting the project objectives.
Comment Period:
Closed 08/19/2016 - 09/09/2016